St. Catharine SPICE Program recognizes that each of our parish children are unique individuals with different learning needs.



A Personal History



SPICE actually began on December 2, 1993 – the day our eleventh child, Megan Marie Ryan was born. Megan was diagnosed at birth with Down Syndrome. We never expected all of our children to have blond hair and blue eyes, but we did want them all to have the opportunity to have a Catholic School Education. Maybe not our first, but certainly one of our strongest hopes for Megan was that she would have the same opportunity that her older brothers and sisters had to attend our neighborhood parish school St. Catharine.

When Megan was of age, we scheduled an appointment with our Principal to enroll Megan in Kindergarten. Our apprehension and countless questions were quickly put to rest when Mrs. Crabtree greeted us with " We have been waiting". Not only did this greeting humble us, it was only followed by "Megan will give more to St. Catharine than we will ever be able to give her!" We didn't quite understand this beautiful thought, but have seen it come to fruition over the years.

As we have said, Megan is our eleventh child to attend St. Catharine. As parents of eleven children we were never your "drop off" parents. Over the years we have been School Board Members, Home and School Officers, coaches, Little League Commissioner, cafeteria workers, playground volunteers, etc. In short, we thought we knew St. Catharine School as well as anyone. We had no clue what great things St. Catharine was doing to meet the needs of ALL of its students, But Megan was soon going to open the doors for the Ryan Family!

When Megan started St. Catharine, we knew there would be extra costs. We had anticipated a small fundraising effort to meet her needs. However, as our understanding grew of what all St. Catharine was doing to meet the special needs of so many of its students, we realized that our efforts needed to go beyond a " Megan thing" to a much higher level. This was the beginning of SPICE.

SPICE was started to both raise awareness of the great things that St. Catharine was doing to meet the needs of all of its students, and to raise funds to help these efforts.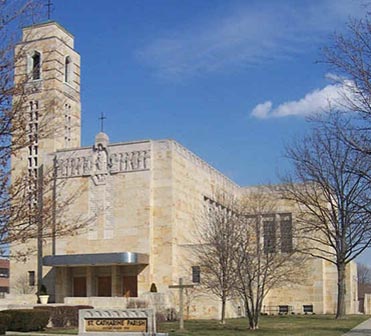 St. Catharine Church
500 S. Gould Rd
Columbus Ohio